About The Cross/Guitar Picture
(Back to home)
The picture is of an old 80's-era Kramer electric guitar of mine hanging on the "Mauley Cross", which is in England, and is located north of Stape in the North York Moors. I took the photograph while I was visiting England in the winter of 1992. I had read about this old cross out in the middle of nowhere, so I got up early one Saturday morning and took off in search of it.
I spent an adventurous day in the general Yorkshire area, mainly due to a great deal of getting lost, but I saw some castles, lots of sheep, a British early warning radar site, more sheep, ancient Roman roads, still more sheep, etc. Eventually, however, I managed to find the cross beside a small road in the middle of Cropton Forest. After making sure no one was around to embarrass myself, I hung my Kramer from the cross, snapped a few pictures, then tossed the guitar back in the car and drove away pretending like nothing happened.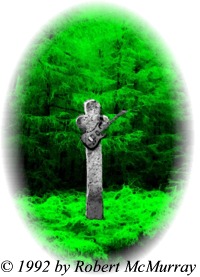 The origins of the Mauley Cross are somewhat shrouded, but from what I've found it is nearly 2,000 years old, and it seems to be generally accepted that the cross had probably been a Roman marker of one sort or another before the introduction of Christianity to the British Isles in later centuries. (Which is pretty cool, eh?) If you're willing to scour the Internet, you can find lots of other photographs and information about several interesting crosses in the North York Moors region.
---
As of this writing, the following pages contain some interesting information and photos about this cross and the surrounding area:
---